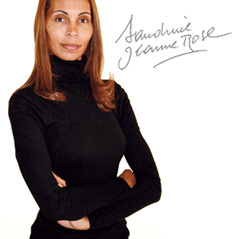 SJR products
a story of passion
Sandrine Jeanne-Rose's passion started in 1991. After a career in modeling, Sandrine became qualified in ethnic and black skins as well as curly and frizzy hair specificities. The same year, she created the first brand of ethno-cosmetics called Kanellia (that she sold in its entirety in 2009).
During the next two decades, Sandrine Jeanne-Rose realized that relaxed hair was more and more damaged by very harmful straightening products, and even by the so-called "relaxers for children" that were supposed to be less harmful. Even worse, besides the significant problem of alteration of the hair fiber, Sandrine Jeanne-Rose noticed that these unsuitable products also caused a serious increase of hair loss.
Based on this observation and armed with conviction, Sandrine Jeanne-Rose multiplied her media appearances (RCI, RFO, Media Tropical, Espace FM, Africa N°1…), and continuously shared with the audience the tips to preserve the women's beauty assets, that she practices in her hair and skin beauty centers.
Acclaimed for her involvement as well as for her expertise, Sandrine Jeanne-Rose enjoys a spotless reputation which earned her various professional awards. Thus, in 1996 she received the "Black beauty Trophy" and in 2003 a "Beauty Award'. Based on her rich experience and her expertise, Sandrine Jeanne-Rose co-wrote the book "Black Beauty: A Practical Guide to Black Beauty" in collaboration with Sonia Rolland, and launched in 2011 her new line of hair care products for relaxed hair: SJR.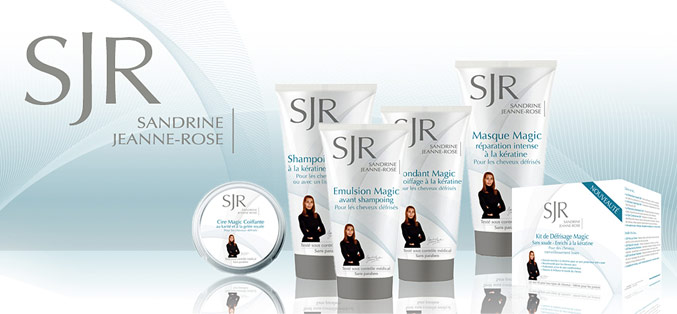 A complete line of hair care products
The line of SJR's hair and skin care products is the result of 20 years of expertise caring For relaxed, straightened, discolored hair . It is a complete line composed of the following products:
Each of these products is all the more powerful if used in combination with the other products. No other line of care product has ever been so well formulated for relaxed hair. The powerful action of these products is based on a perfect combination of proteins and vitamins.
High quality care products, to serve the most demanding users
Being a main consumer of her own products, Sandrine Jeanne-Rose made sure that each one of them respects her strict requirements. Also, the entire SJR line is based on a "Quality Charter", required by Sandrine Jeanne-Rose, and intended to ensure the greatest satisfaction to users.
The main principles of this charter are:
Products are designed and manufactured in France by a laboratory specialized in dermatological and pharmaceutical products. Therefore, the products meet the French legal requirements, which is one of the most rigorous in the world. It is incidentally thanks to these rigorous requirements that France managed to rise to the leading rank of cosmetic design, with the prestigious "Made in France" label, synonymous with expertise and quality. The products are made of first choice components and nutrients selected for their well-known benefits.
No component harmful to human health has been used neither in the products nor in the packaging composition. Paraben and mineral oils have been carefully banned, and packaging does not contain any Bisphenol A or Phthalates.
All care products were tested under medical supervision to guarantee the safety and tolerance after use. All tests were conducted by an independent laboratory. Moreover, some care products have been tested "in vivo" in order to demonstrate the effects on actual hair.
Hair-friendly and innovative hair care products
The SJR line of care products is also involved in research and innovation, always with the same purpose: help protect and preserve the hair beauty assets.
Therefore, this line includes an exclusive and innovative product: The soda free Magic Relaxer Kit enriched with kératine. It has many qualities:
It is easy to use ;
It does not contain any soda, formaldehyde or paraben, all harmful to the hair fiber and health ;
It contains a high dose of keratin that will penetrate into the hair shaft for an active protection and moisturizing ;
Its formula is suitable for every hair type, and it can even be used on children's hair.
Truly revolutionary, this kit is part of the latest generation of

conditioning relaxers that will ensure fabulously smooth hair.
Don't wait any longer to protect your hair:
Discover the complete line of SJR's care products